Managing Screens
In the context menu of a screen, you are able to manage it.
You can access the menu by right-clicking on the screen.
In the "manage screen" options, you will find everything you want to set up on your device.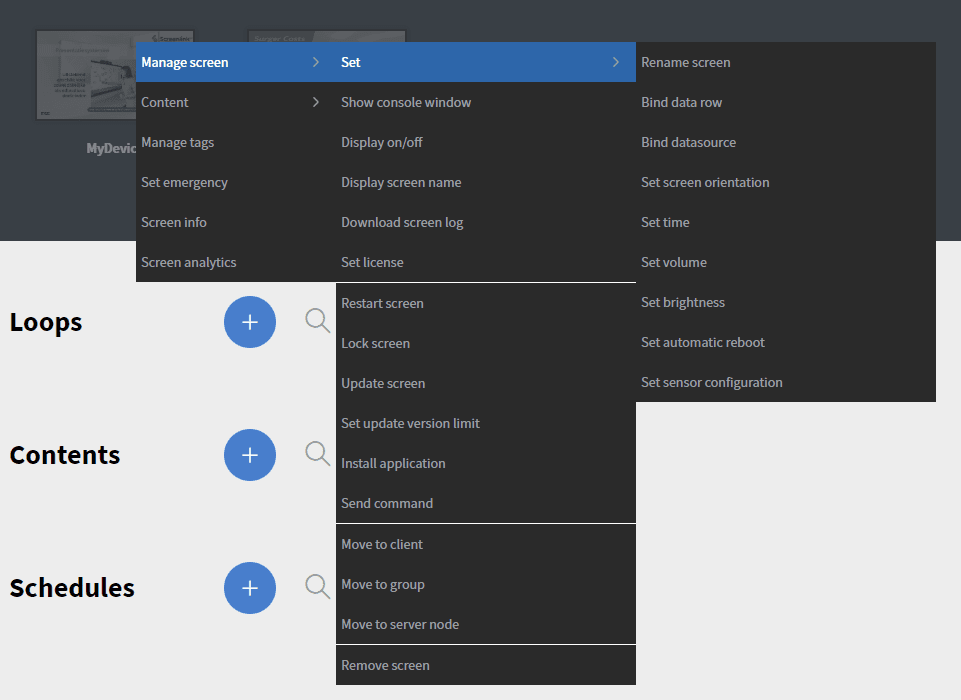 * You can Bind a data row and Bind datasources on your device. For more information: Datasources.
* You can set the time zone on your device with the Set time function.
* With the Set automatic reboot function you can set a time for the device to reboot itself. See more information about Set automatic reboot.
With the Set license function, you can modify the license type of the device.
The Lock screen function will make the PeakSignage application the home app on Android devices. On Windows devices, it will lock down the options you selected during installation.
The Set update version limit function blocks the updates on Android devices. You can set a version number to prevent the device from updating itself beyond that version. You can also completely block any updates on the device. You can clear this limit on the device at any time.
With the Install application function, you can send a URL of an .apk file to the device. After the device completes the download it will install the application.
With the Move to client function, system administrators can move a screen between Clients in the PeakSignage system.
The Move to group function can move the device to a device group.
With the Move to server node function, system administrators can move a screen between PeakSignage servers.
With the Remove screen function, you can reset or remove a screen. Reset screen just removes the stored data on the device and removes it from the system. Remove screen removes the screen from the system and also removes the application from the device.
Content actions on a screen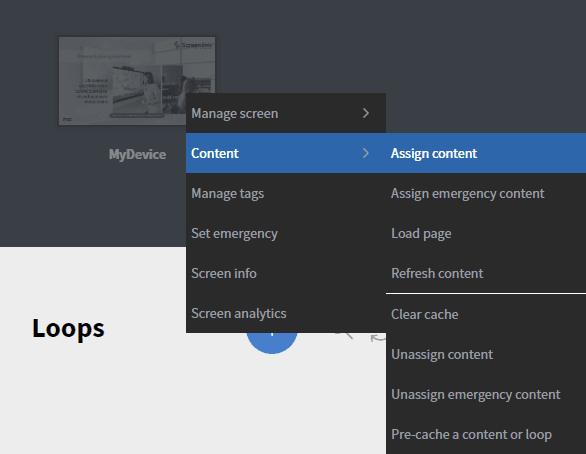 You can assign your content by dragging it over to your screen. Or click on the Assign content option. On the appearing modal you can select the content you want to assign to the device.
You can Assign emergency content to the device here. If you set your device to the emergency state it will display the emergency content.
With the Load page function, you can send a URL of a website to the device to display it.
The Clear cache function removes the cached files from the device.
The Pre-cache a content or loop function pre-downloads the selected content's files to the device.
Other options in the device context menu
In the Manage tags option, you can add or remove tags on the device.
The Screen info option opens a modal which contains information about the device.
Screen analytics opens the Analytics tab and loads the information about the device.