Content Synchronisation
The Synchronize Content function allows you to display a content synchronously on multiple screens.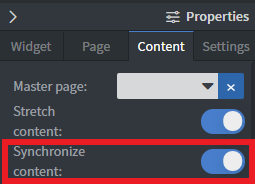 You can turn on Synchronize content in the Content menu under Properties.
Things that the Synchronize content affects in the content:
Switching pages
Video/Videos elements
Image Gallery / Carousel elements
Content/ Contents widget elements
Weather element
After the function is turned on you only need to assign the synchronized content to more than one screen.
Please note that only the same device types can synchronize together. Android with Android, BrightSign with BrightSign etc.